Duct Cleaning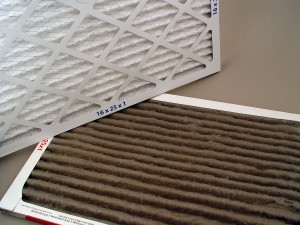 Empire Cleaning offers duct cleaning for heating and cooling ducts of forced air systems, including supply and return air ducts, registers, grills, and diffusers. We fully clean all parts of the system to ensure removal of all dust and debris.
All of our equipment is manufactured to meet or exceed OSHA, EPA, and NADAC standards for cleaning the air of nuisance dusts. We use a specialized negative air system with a HEPA filter. This HEPA filter is efficient enough to remove 99.7% of particulates as small as 0.3 micron in size, smaller than is visible to the human eye. Examples of common air contaminates that fall into this category are
yeast cells
molds
bacteria
pollen
plant spores
tobacco smoke
Our equipment is designed to filter air from numerous job sites, including residences and construction sites. Negative pressure environments help to contain mold, dust, particles, and odors. Air flows from high to low pressure, creating an inward airflow that prevents contaminates from escaping.
Circumstances where you ducts may require cleaning, such as:
mold growth
vermin infestation
clogs of excess dust or debris
Empire Cleaning complies with all NADCA cleaning standards.